Woodrow Wilson

Road # 1913-1921
40' Standard Box Car Double Plug Door
without Roofwalk

Part #MTL-074 00 111
N Scale Supply Price:
New: July 2009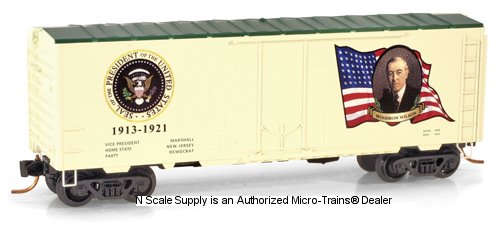 This 40' standard box car with plug door and no roofwalk is car #11 of a 44-car series representing each of the presidents of the United States. It bears the portrait of our 28th president, Woodrow Wilson. Wilson led the United States during World War I. His belief in international cooperation through an association of nations led to the creation of the League of Nations and ultimately to the United Nations. For this he was awarded the Nobel Prize in 1919.
Back to N Scale Supply catalog page for : Micro-Trains® #74000 Series