Great Northern
Road # 6650
40' Standard Box Car Double Plug Door
without Roofwalk

Part #MTL-074 00 030
Reprint: Feb 2014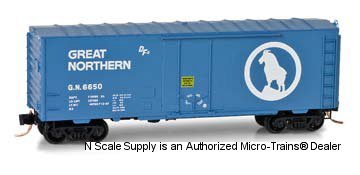 This 40í standard box car with plug doors, no roofwalk and tall ladders is painted blue with white logo and lettering.
It was built in October 1953, serviced in December 1967, and runs the Northern District on Roller Bearing
trucks. Originally built as part of series 21450-21939, this car was rebuilt at the Great Northernís St. Cloud
shops in 1967. It was repainted into the 1967 GN Sky Blue paint scheme and numbered into series 6500-6699.
Roofwalks were removed when repainted into this scheme. It was also equipped with Evans DF-2 loaders.
Back to N Scale Supply catalog page for : Micro-Trains® #74000 Series