Canadian National

Road # 542321
40' Standard Box Car w/Single Door, Full Ladders, w/o Roofwalk

Part #MTL-073 00 140
N Scale Supply Price:
New: Aug 2013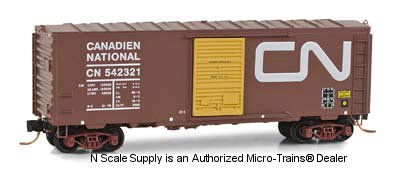 This 40' standard box car with single door and no roofwalk is painted brown with yellow doors. It bears the white 'wet noodle' logo with white lettering. 'Canadian' is printed on the right side of the brakewheel with the French 'Canadien' printed left of the brakewheel. This box car runs on brown Bettendorf trucks with black wheelsets. This car is one of 700 cars built by Eastern Car Company from February through July 1956. It originally wore the green leaf monogram then was repaitned with the wet noodle logo in December 1978.
Back to N Scale Supply catalog page for: Micro-Trains® 73000 Series