Illinois Central

Road # IC 31920
40' Standard Box Car w/Single Door, Full Ladders, w/o Roofwalk

Part #MTL-073 00 090
N Scale Supply Price:
New: Feb 2008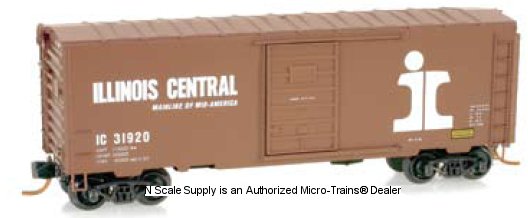 This 40' standard box car with single Superior door, tall ladders and no roofwalk is painted freight car red with white logo and lettering. It was built in October 1948, serviced in November 1967, and runs on Bettendorf trucks. This car, one of a group of 1500 XM box cars, uses a six-foot Superior door and was repainted into IC's brand new 'split rail'
"Mainline of Mid-America" scheme in November 1967.
Back to N Scale Supply catalog page for: Micro-Trains® 73000 Series