British Columbia Railway
Road # BCOL 990198
40' Standard Box Car w/Single Door, Full Ladders, w/o Roofwalk

Part #MTL-073 00 060
N Scale Supply Price:
New:March 2005

Both regular and low-profile wheels are included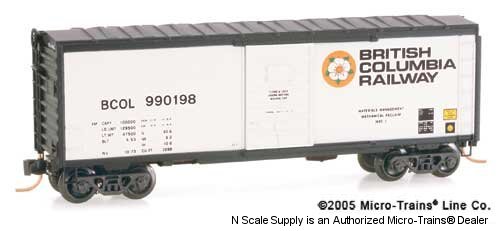 This 40' standard box car with single door and tall ladders without a roofwalk is painted white with black roof and ends. It bears the recognizable dogwood flower logo and is lettered in black. BCOL #990198 has been painted with the leftover white paint used for the chip cars from the "Railwest Project" and was first placed into work service Oct. 2, 1976. The car was designated as Mechanical Reclaim Car 1 (MRC 1) and was used to transport recycled parts and 'stores' between Prince George and Squamish. It received major shopping in October 1979 where the running board was removed and tall ladders retained.

Back to N Scale Supply catalog page for: Micro-Trains® 73000 Series