Northern Pacific
Road # NPMX 155
51' 3-3/4" Rivet Side Mechanical Reefer

Part #MTL-069 00 150
N Scale Supply Price:
Reprint: June 2011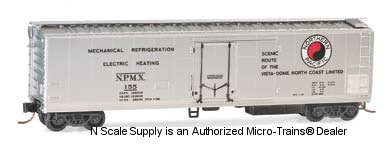 This 51' rivet side mechanical reefer is painted aluminum with black lettering and the Monad logo in white, red and black. It was built in January 1956 by Pacific Car & Foundry and runs on Roller Bearing trucks. It was used to transport frozen foods, and produce, such as cherries and apples from Washington, potatoes from Minnesota's Red River Valley, and fish and bananas from Seattle. In March 1970 the NP merged with Great Northern; Spokane, Portland & Seattle; and Chicago, Burlington & Quincy to become part of the Burlington Northern.


Back to N Scale Supply catalog page for : Micro-Trains® 69000 Series