CP Rail
Road # CP 504484
57' 6" Converted TOFC Flat Car
& 45' Trailer

Part #MTL-064 00 070
N Scale Supply Price:
Reprint: June 2009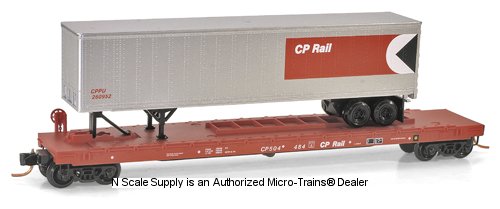 This 57' 6" TOFC Flat Car CP Action Red with a white large CP Rail logo and white lettering was built in August 1978 Marine Industries of Quebec, Canada and received its U-1 wheel inspection stencil in 1978. The star to the left of the load limit signifies that this car is not capable of carrying the maximum load permitted so the car won't be overloaded. This number cannot be changes except by the owner. CP 504485 runs on black roller bearing trucks and carries a 45' CP trailer decorated with the black, white & red 'Pacman' logo.
Back to N Scale Supply catalog page for : Micro-Trains® 64000 Series