Chicago North Western
Road # 780518
57' 6" Converted TOFC Flat Car

Part #MTL-064 00 020
Reprint: Aug 2014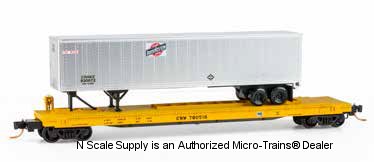 This 57' converted TOFC flat car is painted yellow with black lettering and runs on Barber Roller Bearing
trucks. It was built in 1976 as part of series 780501-780699 and was later serviced in 1986. Most of
C&NW's traffic was concentrated on the lines of an eastern extension of UP's transcontiental main line.
Today, UP owns the C&NW after purchasing it in 1995.
Back to N Scale Supply catalog page for : Micro-Trains® 64000 Series