Atchison, Topeka & Santa Fe
Road # SFRD 20698
40' Steel Side Ice Reefer w/Preco Fan

Part #MTL-059 00 536
N Scale Supply Price:
New: June 2010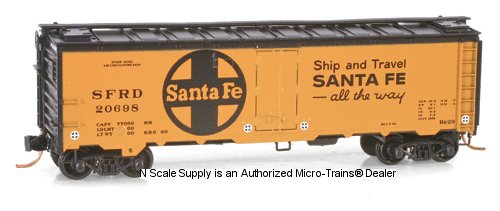 This 40' steel ice reefer with operating hatches and Preco fan is painted black with yellow sides and black herald and lettering. It was built in March 1940 by General American Transportation, serviced in June 1960, and runs on Bettendorf trucks. Built as class RR-29, these reefers were outfitted with Duryea cushion underframes, as well as stage icing and air circulating fans. The series was part of Santa Fe's 'Modernization Program' beginning in 1953. The cars were renumbered and painted with yellow-orange sides; earlier ice bunker reefers were yellow. Most cars retained their original hardware. By 1972 the "icing stations" were all closed, leaving the cars to carry dry product.
Back to N Scale Supply catalog page for : Micro-Trains® 59500 Series