Swift Refrigerator Line
Road # SRLX 4011
36' Wood Sheathed Ice Reefer with Modern Steel Underframes

Part #MTL-058 00 590
New: June 2011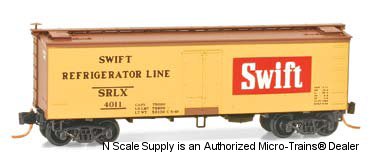 This 36' wood-sheathed ice reefer with modern steel underframe is painted box car red with yellow sides. The logo is white on red; the car bears black lettering. It was built in August 1924, serviced in May 1949, and runs on Bettendorf
trucks. Owned by General American Transportation Company since 1931 and leased to Swift, these cars originally carried many different paint schemes during their lives. This paint scheme was introduced in the late 1940s.
Back to N Scale Supply catalog page for : Micro-Trains® 59500 Series