Delaware, Lackawanna & Western
Road # DL&W 82597
33' Twin Bay Hopper, Rib Sides

Part #MTL-056 00 410
N Scale Supply Price: Sold out
New: Feb 2010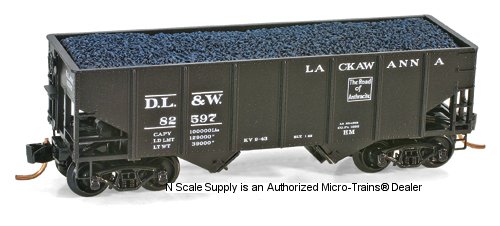 This 33' twin bay hopper with rib sides and 'blue coal' load is painted black with white logo and lettering. It was built in January 1922 by Cambria Steel, serviced in 1943 and runs on Bettendorf trucks. Stenciled with the herald "The Road of Anthracite", this hopper carries an Anthracite coal load. Many coal companies branded their coal—'blue coal' was the trademark of the coal mined and processed by Glen Alden Coal Company and sold by the DL&W Coal Mine Department.
Back to N Scale Supply catalog page for : Micro-Trains® #56000 Series