MONON
Road # MON 41501
33' Twin Bay Hopper w/Offset Sides

Part #MTL-055 00 370
N Scale Supply Price
New: Sept 2008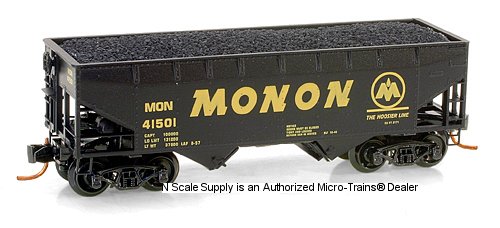 This black 33' twin bay hopper with offset sides displays large yellow 'MONON' letters, 'The Hoosier Line' logo and stenciling. This hopper was built in October 1940, serviced in August of 1957, and runs on black Bettendorf trucks, The Monon Railroad (AAR reporting marks CIL, MON), also known as the Chicago, Indianapolis & Louisville Railway from 1897-1956, operated almost entirely within the state of Indiana. The Monon was merged into the Louisville and Nashville Railroad in 1971, and much of the former Monon right
of way is operated today by CSX Transportation.
Back to N Scale Supply catalog page for : Micro-Trains® 55000