Delaware & Hudson
Road # D&H 9471
33' Twin Bay Hopper w/Offset Sides

Part #MTL-055 00 340
N Scale Supply Price Sold Out
New: June 2008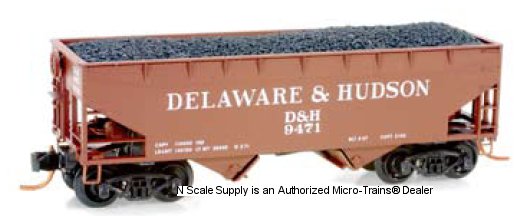 This 33' twin bay hopper with offset sides is painted box car red with white herald and lettering. It was built by Bethlehem Steel in April 1967 and runs on Bettendorf trucks. Hopper 9471 was serviced and repainted oxide red with D&H billboard scheme at Oneonta, NY, in March 1971. Hoppers like these carried a variety of loads including coal, iron ore and ballast.
Back to N Scale Supply catalog page for : Micro-Trains® 55000