Canadian National
Road # 78547
34' Wood Sheathed Caboose w/Straight Cupola

Part #MTL-051 00 280
New: January 2014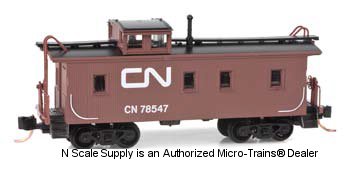 This 34' Wood Sheathed Caboose, with Straight Cupola is painted brown with black roof. It displays the "Wet Noodle" CN herald in white and rides on Bettendorf swing motion trucks. This series of 100 cabooses was built in 1943, from 30 ton box cars, by Pointe St. Charles Shops. The car this caboose was likely built from originally belonged to Grand Trunk.
Back to N Scale Supply catalog page for: Micro-Trains® 51000 Series