New York Central
Road # 17906
34' Wood Sheathed Caboose w/Straight Cupola

Part #MTL-051 00 080
N Scale Supply Price:
Reprint: Aug 2014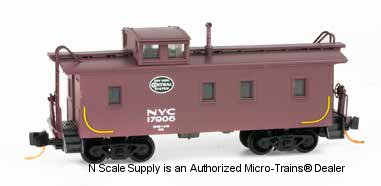 This 34' wood sheathed caboose with straight cupola is painted brown with white lettering. It was built for the New York Central Railroad in West Detroit in 1921. It had four 20" windows per side and was originally equipped with 5 oil lamps.
Back to N Scale Supply catalog page for: Micro-Trains® 51000 Series