Ontario Northland

Road # 100339
50' Flat Car, Fishbelly Sides, w/Side Mount Brake Wheel

Part #MTL-045 00 430
New: Jan 2014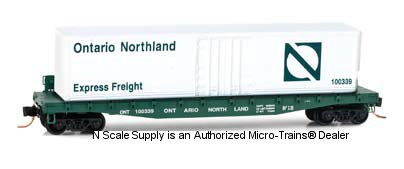 This 50' Flat Car, with Fishbelly Sides, is painted dark green with white lettering. It was built in 1952 and has a 103,000 lb capacity and is equipped with Roller Bearing trucks. It is laden with a white refrigeration container displaying the Ontario Northland logo in dark green. The Ontario Northland Railway is operated by the Ontario Northland Transportation Commission.
Back to N Scale Supply catalog page for : Micro-Trains 45000 Series