Canadian National

Road # 664062
50' Flat Car, Fishbelly Sides, w/Side Mount Brake Wheel

Part #MTL-045 00 321
Reprint: June 2013
Canadian National

Road # 664087
50' Flat Car, Fishbelly Sides, w/Side Mount Brake Wheel

Part #MTL-045 00 322
N Scale Supply Price: Sold Out
Reprint: June 2013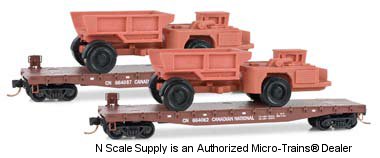 *Mine trucks come unassembled.
These 50' flat cars with fishbelly sides and side-mount brake wheel are painted CN brown and lettered in white.
They run on black Barber Roller Bearing Trucks. Canadian National is North America's largest railroad with track
reaching from the Land of Evangeline to the majestic pine-covered Pacific Coast. CN operates the only railway
that enters the frozen tundra of the Northwest Territories.
Back to N Scale Supply catalog page for : Micro-Trains 45000 Series