Burlington Northern
Road # 602639
50' Flat Car, Straight Side w/Side Mount Brake Wheel with Howitzer load

Part #MTL-044 00 071
N Scale Supply Price:
Reprint: Dec 2014
Burlington Northern
Road # 602658
50' Flat Car, Straight Side w/Side Mount Brake Wheel with Howitzer load

Part #MTL-044 00 072
N Scale Supply Price:
Reprint: Dec 2014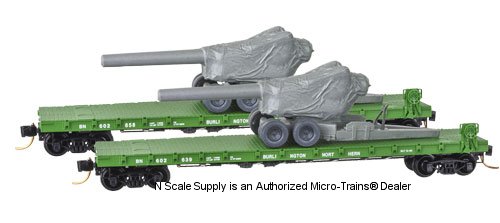 These 50' flat cars with straight sides and side mount brake wheel are painted green with white
herald and lettering. Built in 1960 as part of series 602600-602699 they ran on Bettendorf trucks.
Burlington Northern is the longest railroad in North America. It's longer than any of the 'super seven'
railroads, having 23,356 operating route miles.

Back to N Scale Supply catalog page for : Micro-Trains® #44000 Series