Northern Pacific

Road # 13325
40' Double-Sheathed Wood Box Car with Single Door

Part #MTL-042 00 140
N Scale Supply Price:
New: May 2014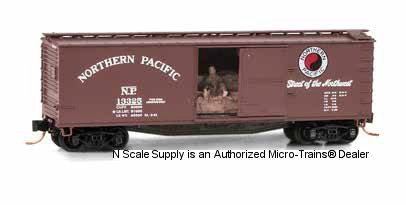 This 40í Double Sheathed Wood Box Car with single door and side mount brakewheel is painted
brown with white lettering. It was built in 1925, serviced in August, 1961 and ran the midwest region
on bettendorf trucks. The 4í monad and the mainstreet logo are post 1948 style and lettering.
By 1966 this car was stenciled for hide loading. Its interior was not suitable for clean loading. So it
was assigned to the less glamorous service of hide loading which contaminated itís interior and could
not be used for other service.
Back to N Scale Supply catalog page for : Micro-Trains® #42000 Series