New Haven

Road #

NH 172050

40' Double-Sheathed Wood Box Car with Single Door

Part #MTL-042 00 130
N Scale Supply Price:
New: June 2011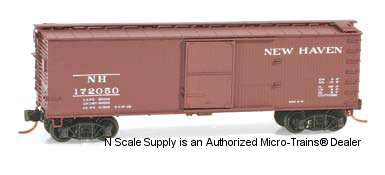 This 40' double-sheathed wood box car with single door is painted brown with white logo and lettering. It was built
in October 1910, serviced in October 1929, and runs on Arch Bar trucks. This car lasted into the 1930s before being
removed from this series.
Back to N Scale Supply catalog page for : Micro-Trains® #42000 Series