USS Pampanito

Road # SS-383
50' Standard Box Car, Plug Door w/o Roofwalk

Part #MTL-038 00 403
New: Nov 2006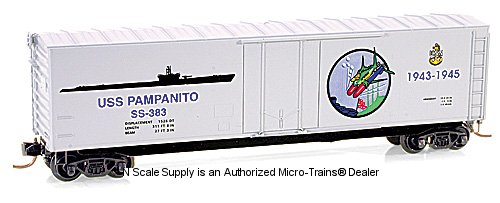 USS Pampanito
Road Number SS-383
U.S. Navy Series Car #3 bears the silhouette of the Balao Class Submarine USS Pampanito, SS-383. Commissioned in November 1943, the Pampanito served in the Pacific Theater from March 1944 to the end of World War II. It was then ordered to San Francisco before being decommissioned December 15, 1945. Measuring 311 feet long with a beam of 27 feet and three inches, the Pampanito was capable of surface cruising in excess of 20 knots and 8.75 knots submerged. She is now a National Historic Landmark, moored at Pier 45, Fisherman's Wharf, San Francisco.
Back to N Scale Supply catalog page for : Micro-Trains® 38000 Series