Chicago, Burlington & Quincy

Road # 48620
50' Standard Box Car, Double Door w/o Roofwalk

Part #MTL-037 00 130
N Scale Supply Price:
New: May 2014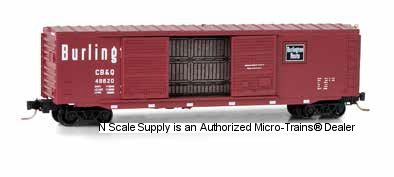 This 50' Standard Box Car with double Youngstown doors, full ladder and no roofwalk, is painted red with the Burlington Route Logo in white. It was built in 1947 as part of series 48600-48774 and runs on Roller Bearing trucks. CB&Q was a Class I railroad that operated in the Midwestern United States. It merged with three other railroads to become the Burlington Northern Railroad in 1970.
Back to N Scale Supply catalog page for : Micro-Trains® 37000 Series