Atchison, Topeka & Santa Fe

Road # 13592
50' Standard Box Car, Double Door w/o Roofwalk

Part #MTL-037 00 120
N Scale Supply Price: $19.44
New: March 2014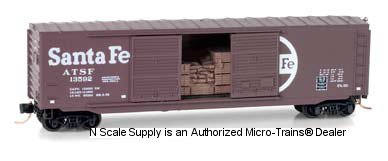 This 50' standard box car with double doors and no roofwalk is painted brown with white lettering and logo. It was built in January 1957, serviced in August 1972, and runs on Bettendorf trucks. This represents one of the last 1950s automobile cars, one of 500 Class FE-30 cars, built by Santa Fe at their own Topeka shops. Their
super-structures, roof panels, ends and placard boards were all of improved design in accordance with the AAR standards adopted in 1954. They were numbered into series 13500-13999 and assigned initially into general service. In August of 1972, cars were serviced and received the ATSFs standard paint of the 1970s.
Back to N Scale Supply catalog page for : Micro-Trains® 37000 Series