Canadian National

Road # CN 796060
50' Standard Box Car, Double Door w/o Roofwalk

Part #MTL-037 00 080
New: May 2011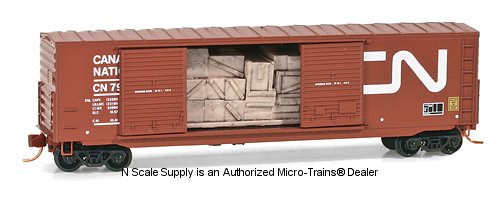 This 50' standard box car with double doors and no roofwalk is painted mineral brown with white CN 'wet noodle' logo and lettering with white reflectors. It was built in October 1957 by Canadian Car & Foundry, serviced in October 1981, and runs on Roller Bearing trucks. It was part a 420-car order later renumbered into series 798050-798079 to provide dedicated service for auto parts loading. It was renumbered again in 1969 into 796050-796079 where they existed until 1999.
Back to N Scale Supply catalog page for : Micro-Trains® 37000 Series