Texas & Pacific
Road # T&P 21600
40' Despatch Stock Car

Part #MTL-035 00 110
N Scale Supply Price:
Reprint: Aug 2008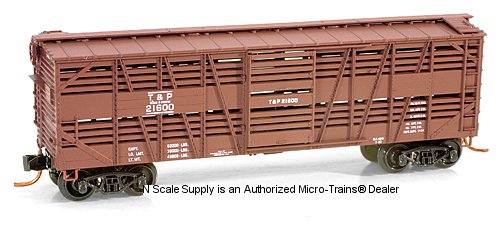 This 40' despatch stock car is painted box car red with white stenciling. It was built in July 1920 by Pullman Car Manufacturing Corp. of Birmingham, AL, and runs on Bettendorf trucks. T&P 21600 was assigned to series 21000-21699.
Back to N Scale Supply catalog page for: Micro-Trains® 35000 Series