Libby's Famous Foods
Road # TLDX 35
50' Standard Box Car, Plug Door

Part #MTL-032 00 430
New: December 2005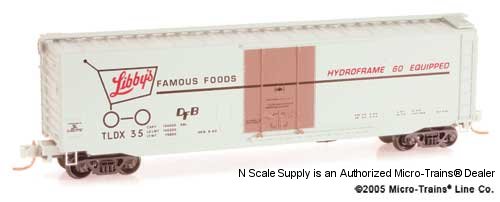 This 50' standard box car with plug door is painted a pale blue with olive drab doors, "Libby's" shopping cart logo, black and white lettering and runs on blue Barber® roller bearing trucks. Leased from Transport Leasing by Libby's Famous Foods, this car was built by Pullman-Standard out of Michigan City, Indiana, in August 1963. Transport Leasing is a Division of Pullman Incorporated. Number 35 is part of a seven-car order from lot 8822. Cars 35 thru 39 were painted for Libby's Famous Foods, while numbers 33 & 34 were painted for the Jewell Tea Company. Some cars remained in their original paint into the 1970s.


Back to N Scale Supply catalog page for : Micro-Trains® 320000 Series