Nickel Plate Road
Road # NKP 84147
50' Standard Box Car, Plug Door

Part #MTL-032 00 410
Reprint: Sept 2009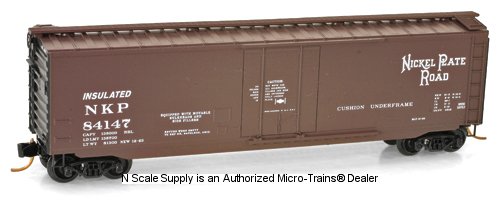 This 50í standard box car with plug doors is painted box car red with black ends. The Nickel Plate Road herald is white and the car is lettered in white. It was built in December 1963 by General Americanís East Chicago Shops and runs on Bettendorf trucks. Nickel Plate Road had its origin in 1881. It was merged into the Norfolk
and Western on October 16, 1964. Its reporting marks began to be listed under N&W in the 1965 issue of the Official Railway Equipment Registry (ORER). The Nickel Plate reporting marks carried over to the N&W and the new Norfolk Southern and ceased to be listed after the July 1998 issue of ORER.
Back to N Scale Supply catalog page for : Micro-Trains® 320000 Series