Denver & Rio Grande Western
Road # 66172
40' Outside-Braced Box Car Single Door

Part #MTL-028 00 200
N Scale Supply Price:
New: Aug 2013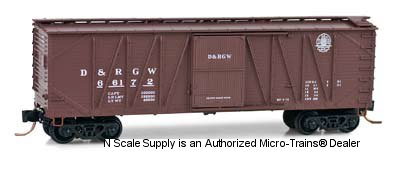 This 40' outside-braced box car with single door is painted brown with white Moffat Tunnel logo and white
lettering. It was built in April 1916 and runs on Bettendorf trucks. In 1931, the D&RGW acquired the Denver and
Salt Lake Western Railroad, a subsidiary of the Denver and Salt Lake Railroad which had acquired the rights to
build a 40-mile connection between the two railroads. After years of negotiation, the D&RGW gained trackage
rights on the D&SL from Denver to the new cutoff. In 1932, the D&RGW began construction of the Dotsero Cutoff
east of Glenwood Springs on the Colorado River. Construction was completed in 1934, giving Denver a direct
transcontinental link to the west. In 1947 D&RGW merged with the D&SL gaining control of the "Moffat Road"
through the Moffat Tunnel.
Back to N Scale Supply catalog page for : Micro-Trains® #28000 Series