Minnesota, Dakota & Western
Road # 10173
50' Rib-Side Box Car w/Sliding & Plud Doors, No roofwalk

Part #MTL-026 00 060
N Scale Supply Price:
New: June 2014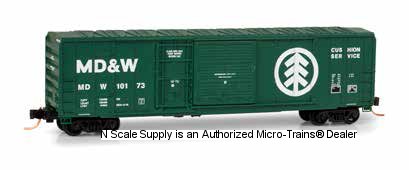 This 50' rib side box car with plug & sliding door, without roofwalk is painted green with white lettering
and circle logo. It was built in 1976 by FMC as part of series 10000-10199 and runs on Barber Roller
bearing trucks. Minnesota Dakota and Western Railway is a shortline railroad operating between International
Falls and Ranier, Minnesota as well as between International Falls and Fort Frances, Ontario. The
railroad interchanges with Canadian National Railway at Ranier, Minnesota.
Back to N Scale Supply catalog page for : Micro-Trains® #26000 Series