New York Central
Road # 77147
40' Standard Box Car w/Double Doors

Part #MTL-023 00 300
N Scale Supply Price:
Reprint: Sept 2011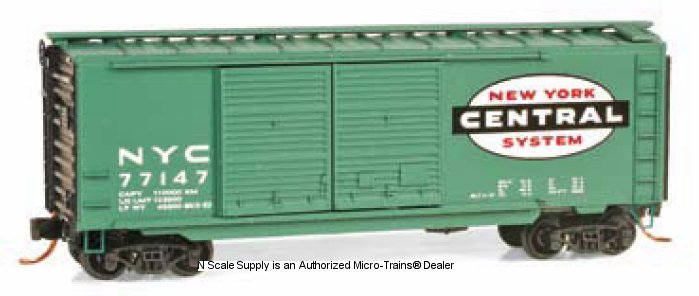 This 40í standard box car with double sliding doors is painted green with black, red and white logo and white lettering.
It was built between 1947-1948 by Despatch Shops, Inc., serviced in 1962, and runs on Bettendorf trucks. Penn
Centralís freight painting practices varied considerably; cars ordered by the NYC before the merger (but delivered
afterwards) did arrive with New York Central lot numbers.
Back to N Scale Supply catalog page for : Micro-Trains® #23000 Series