Northern Pacific
Road # 38268
40' Standard Box Car w/Double Doors

Part #MTL-023 00 250
N Scale Supply Price:
Reprint: July 2013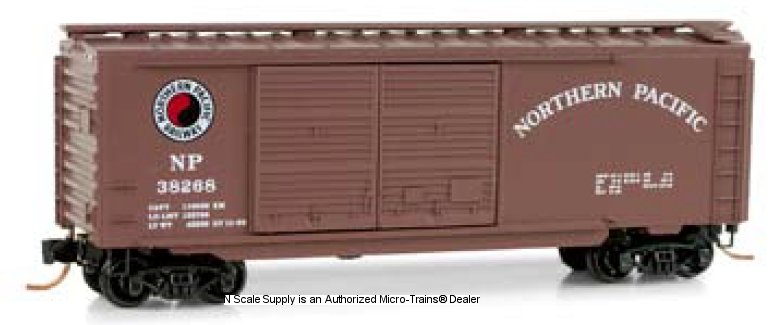 This standard box car with double doors came from NP's search for more of these cars styles in order to help handle
the lumber traffic between 1961 and 1963. It was built in February 1945, serviced in November 1962, and runs
on Bettendorf trucks. #38268 is one of many NP acquisitions that were castoff by Erie and Delaware, Lackawanna
& Western railroads, and leased through A.A. Morrison Company of Buffalo, NY. All the leased cars were given this
lettering scheme represented. The 500-car fleet wears the 3'6" red, black and white herald above the reporting
mark, left of the door, with the arched road name to the right.
Back to N Scale Supply catalog page for : Micro-Trains® #23000 Series