Chicago, Burlington & Quincy
Road # 41554
40' Standard Box Car w/Plug & Sliding Doors

Part #MTL-022 00 130
N Scale Supply Price: Sold Out
New: Oct: 2012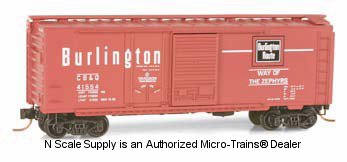 This 40' standard box car with plug and sliding doors is painted red with black, red and white logo and white lettering. It was
built in December 1959 and runs on Bettendorf trucks. This series 41000-41899 was classified XM-2s. Fitted with an 8' plug
door and a 6' sliding door, they were all painted in the Chinese Red paint scheme. They were stenciled with the Burlington Route
logo along with the "Everywhere West" slogan on the left side of the brakewheel and the "Way of the Zephyrs" on the right.
Large "BURLINGTON" letters were stenciled to the left of the sliding door and over the plug door.
Back to N Scale Supply catalog page for : Micro-Trains® #22000 Series