Pennsylvania Railroad
Road # 19103
40' Standard Box Car, Plug Door

Part #MTL-021 00 886
N Scale Supply Price:
New: July 2012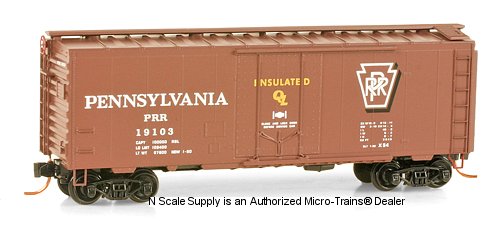 This 40' standard box car is painted PRR Tuscan red. It displays 'PENNSYLVANIA' in large white lettering to the left with the 'Shadow Keystone' logo to the right. This X-54 insulated box car was constructed at Samuel Rea Shops during 1960 and has an inside length of 40'. The X-54s were equipped with the Evans Quick Loaders. This device consists of two gates mounted on the ceiling of the car. They could be brought down like an overhead garage door and positioned to secure the lading by locking the belt rails on the sides of the car.
Back to N Scale Supply catalog page for : Micro-Trains® #21000 Series