Hanukkah Car
Road # MTL 2013
40' Standard Box Car, Plug Door

Part #MTL-021 00 560
N Scale Supply Price:
New: Nov 2013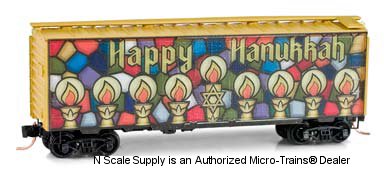 This colorful 40' Standard Box Car is
decorated in a similar stain glass motif to the
Hanukkah Car released last year. The roof
and ends will be painted in the same gold
color and the car will be run in clear plastic
to create a translucent effect for the stain
glass design. This year's scheme features
a close up view of the Menorah candles to
commemorate the eight-day Jewish holiday,
also known as the Festival of Lights and
a more multi-colored stain glass pattern.
Contact your local dealer today to order this
unique car.
Back to N Scale Supply catalog page for : Micro-Trains® #21000 Series