Chicago Great Western
Road # CGW 381
40' Standard Box Car, Plug Door

Part #MTL-021 00 430
N Scale Supply Price:
New: July 2011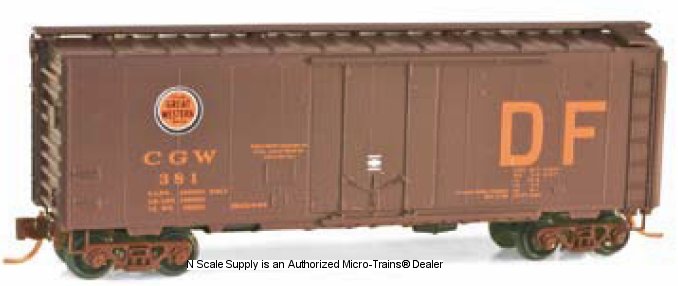 This 40' standard box car with plug door is painted maroon with black, white and orange 'Lucky Strike' logo, and
orange lettering It was built in August 1960 by Pullman Standard and runs the Northwestern District on Roller Bearing
trucks. This car was listed with the mechanical designation of XMLI, an insulated box car with load restraining devices.
The Evans Products Company installed the Damage Free equipment in August of 1960. Fresh "Thresher hot spray"
red-brown paint has been applied with the 36" "Lucky Strike" herald and "DF" letters. It was to be returned to the
Pennsylvania Railroad for loading by the Campbell Soup Company.
Back to N Scale Supply catalog page for : Micro-Trains® #21000 Series