Michigan State Car
(#31 of 50)
Road # MI 1837
40' Standard Box Car, Plug Door

Part #MTL-021 00 395
N Scale Supply Price: Sold Out
New: November 2005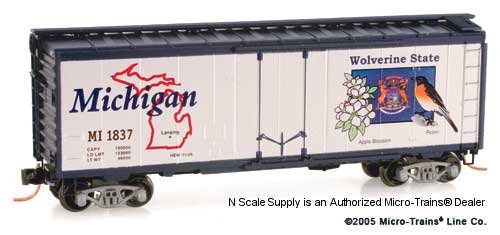 This 40' standard box car with plug door is car #31 of a 50-car series representing each of the 50 states in the union. It bears the Robin and Apple Blossom flower, Michigan's official state bird and flower. The flag of the state of Michigan is in the background. The road number 1837 represents the year the 'Wolverine State' was admitted into the union.

Back to N Scale Supply catalog page for : Micro-Trains® #21000 Series