American Colloid Company
Road # LOVX 990
40' Standard Box Car, Plug Door

Part #MTL-021 00 190
N Scale Supply Price:
Reprint: Oct 2008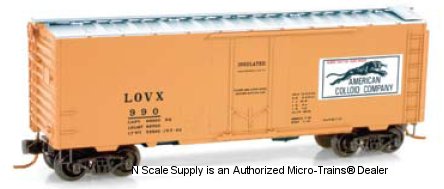 This 40' standard box car with plug door is painted reefer orange with an aluminum roof. The black and white
panther logo decorates the side of this car, with red "Thanks for your order" proudly displayed. LOVX has black
lettering and runs on black Bettendorf trucks. LOVX 990 was originally a DT&I car built in 1919 and most recently
serviced and repainted at the DT&I Jackson, OH shops in 1969. It was likely used to transport industrial salt.
Back to N Scale Supply catalog page for : Micro-Trains® #21000 Series