Northern Pacific
Road # NP 98522
40' Standard Box Car, Plug Door

Part #MTL-021 00 170
N Scale Supply Price: $19.44
Reprint: Nov: 2012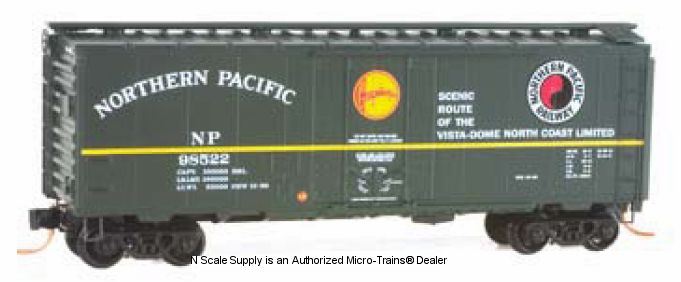 This 40í standard box car is part of 50 car RBL series 98500-98549 built in October 1958 by Northern Pacificís Brainerd,
MN shops. This series was equipped with Pullman-Standard Compartmentizer load dividers and stenciled with the
yellow and red Compartmentizer monogram. RBL class includes insulated Refrigerator cars without the refrigeration
units used to ship products not requiring refrigeration but still needing protection from temperature extremes.
Back to N Scale Supply catalog page for : Micro-Trains® #21000 Series