Weathered Union Pacific

Road # 193455
40' Standard Box Car, Single Door

Part #MTL-020 44 296
New: March 2013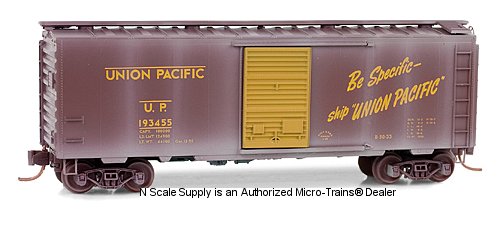 In June 1942, UP built these 40' standard box cars with single door at their Omaha, Nebraska shops. They were painted UP
mineral red and lettered in yellow. The class B-50-33 box car was part of a 749 car fleet that featured the slogan, 'Be Specific - ship Union Pacific' on one side and the 'Road of the Streamliners' slogan on the other side.
Back to N Scale Supply catalog page for : Micro-Trains® #20000 Series