Denver & Rio Grande Western

Road # D&RGW AX-69035
40' Standard Box Car, Single Door

Part #MTL-020 00 776
N Scale Supply Price:
Newt: March 2008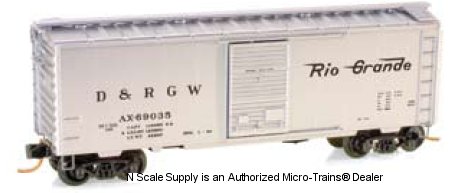 This 40' standard box car with single door is painted aluminum with black logo and lettering. It was built in April
1941 and serviced in January 1969. It runs on Bettendorf trucks. It is now in company service, assigned as a tool car
for the SB-1 side-boom Cat outfit. Last serviced in January 1969, it was stationed at Minturn, Colorado, for years in
MOW service. It was spotted in 1975 in silver MOW paint.
Back to N Scale Supply catalog page for : Micro-Trains® #20000 Series