Union Pacific

Road # UP 903658
40' Standard Box Car, Single Door

Part #MTL-020 00 756
N Scale Supply Price:
Newt: March 2008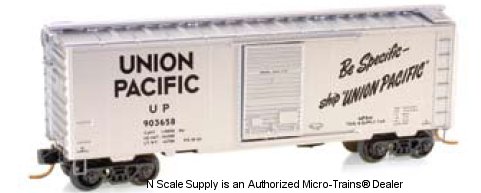 This 40' standard box car with single door is painted aluminum with black logo, slogan and lettering. It was built in May
1940 and serviced in October 1963. It runs on roller bearing trucks. This car, now in company service, has been carefully
painted aluminum in mixed schemes applied from the years 1950, 1952 and 1956. Last serviced in October 1963, the car was spotted assigned to motive power and machinery department service at Cheyenne, Wyoming, in June 1992.
Back to N Scale Supply catalog page for : Micro-Trains® #20000 Series