Rock Island

Road # 20032
40' Standard Box Car, Single Door

Part #MTL-020 00 566
N Scale Supply Price:
Reprint March 2013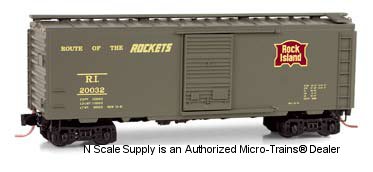 From 1940 to 1942, the Rock Island purchased 3,600 box cars from Pressed Steel Car Co. This 40' standard box
car with single door is part of that group. It was built in December 1941 and painted Pullman green and dulux gold
with red logo accent. The 3,898 cu ft., 122,000 capacity steel box car was used in BX express service and equipped
with Allied full-cushion trucks.
Back to N Scale Supply catalog page for : Micro-Trains® #20000 Series