One Car Garage
Part #MIL-GAR-100
N Scale Supply Price: $13.46
NOTE: Prices reflect N scale model prices.
HO and Z scales models are available for
special order, please email for prices.
This Garage kit will add eye appeal to any house. Not really a victorian structure, but more a result of 20th century necessity. If you have never built a MICRO STRUCTURE kit before, this is the perfect kit to start with - inexpensive and easy to build.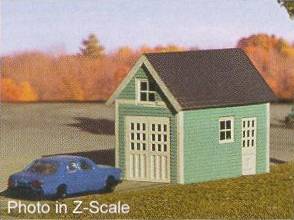 Back to N Scale Supply catalog page for : Miller Engineering
Back to N Scale Supply catalog page for : Miller Engineering Accessories