Y-3 2-8-8-2 Steam Locomotive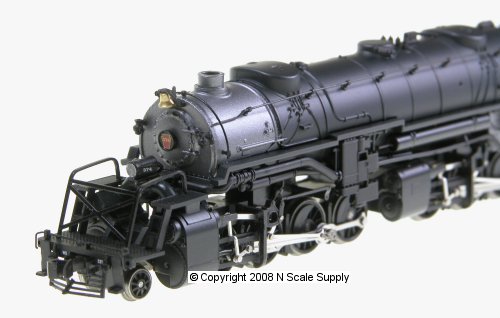 Model Information:
Available With or Without Quantum(R) Sound & DCC
Traction Tires for Superior Pulling Power
Electrical Pickup on Loco & Tender
Railroad-Specific Details
Accumate(R) Knuckle Couplers
Flywheel Equipped for Smooth Operation
Constant Intensity & Directional Headlights
RP-25 Contour Wheels - Operate on Code 55 or Larger Rail
Heavy Diecast, Split-Frame Chassis
Five-Pole Skew-Wound Motor
Sound can be operated with standard DC power pack or DCC controllers. Sound features include: Exhaust, Whistle, Bell, Squealing Brakes, Doppler Effect, Air Let Off (in neutral), Turbo Generator Whine, and Trailer to mute whistle and bell for double heading.
Prototype Information:
First built for the Southern Pacific in 1909 to tame its tough western grades, the 2-8-8-2 articulated Mallet soon caught the attention of roads facing similar problems. In 1910, Norfolk and Western ordered five 2-8-8-2s (Class Y-1) similar to the SP models from Baldwin. By 1918, lessons learned from the first group led to an improved version, the Y-2; with minor changes to the cylinders, these became Class Y-2a, which served as the basis for the United States Railway Administration (USRA) 2-8-8-2.

Although delivered too late for the war effort, the N&W received 50 of the USRA engines in 1919, which it classified as Y-3. In 1923 another 30 were ordered with larger tenders (Y-3a), followed by 10 more in 1927 fitted with feedwater heaters.

During World War II, several Y-3s were sold to various western railroads that were desperate to ease motive power shortages. Although well suited to coal-hauling duties in the Appalachians, the big articulateds proved too slow for most of their new owners and they were retired or sold following the war. At home, Y-3s remained in service until 1958.

WITH DCC & SOUND
Road Name
MSRP
Our $
Part #
Atchison, Topeka & Santa Fe

$349.98
LIF-90111
$349.98
LIF-90112
Union Pacific

$349.98
LIF-90116
STANDARD DC - (NO SOUND)
Road Name
MSRP
Our $
Part #
Atchison, Topeka & Santa Fe

$250.00
LIF-96111
Union Pacific

$250.00
LIF-96115
Traction Tire for 2-8-8-2, 12 pieces
$5.99
LIF-95001