T-Trak Kits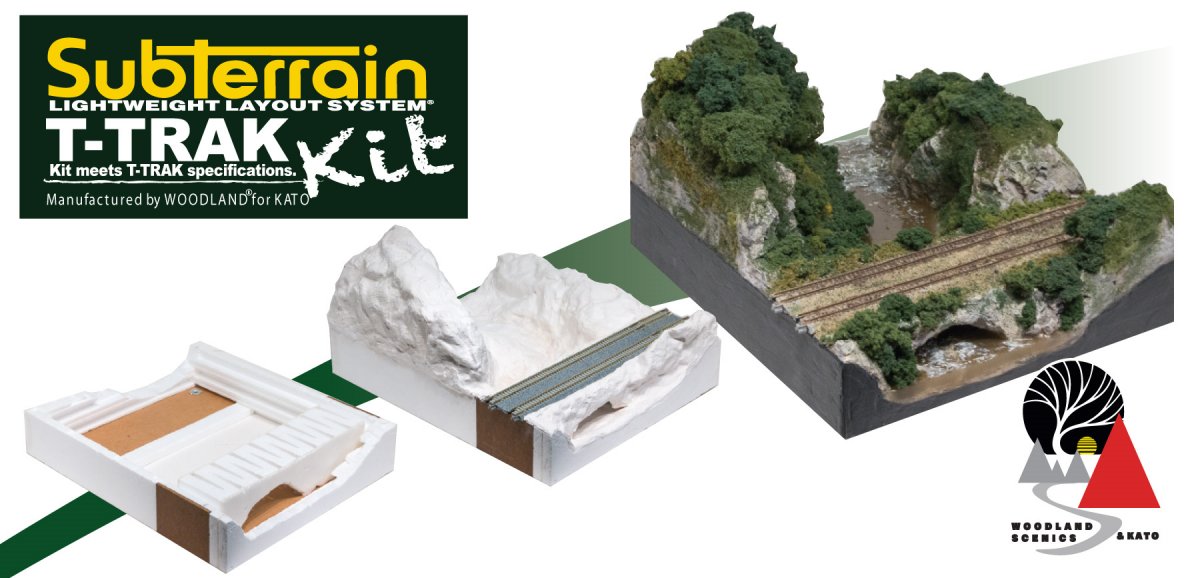 T-Trak: Module building to a higher standard
Kato and Woodland® have teamed up with a brand new project to make it easier than ever for modelers to get into scenery and layout building, thanks to T-Trak(TM) and UNITRAK!
Kato USA will be distributing special T-Trak module kits, made by Woodland using their SubTerrain Lightweight Layout System®! Each SubTerrain T-Trak kit is made from lightweight, sculpt-able foam with wooden reinforcements that make them easy to assemble, transport, and shape into your desired form! Included in each set are a variety of sculpting aides, like a Woodland Shaper Sheet® and sculpting plaster, as well as all the tools you need to assemble the completed module kit – even glue, and of course, Kato UNITRACK!

Learn more about the T-Trak module system of standards here: www.ttrak.org

Modules are available in "Straight" and "Corner" variations, and are designed to T-Trak standards to allow multiple modules to "snap" together using the power of Kato's Uni-Joiners. Thanks to the standardized dimensions, these kits can be connected to any existing of future T-Trak modules, whether they're built using these kits or not!
Pictured to the left is a sample of a Straight T-Trak module, with some sections already carved out using a hot-wire cutter. One of the big advantages of using the SubTerrain foam system is that it allows building not scenery not only above but also below the level of the track - a difficult venture using an all-wood structure.


Shown here is the final product - with a hill area built upward using Woodland's Shaper Sheet and a river section carved out below. This type of module can be easily built by modelers of any skill level thanks to the easily worked materials! By combining easy to assemble and sculpt terrain tools with the reliability of Kato UNITRACK, Kato and Woodland have made a modular kit system that can be enjoyed by anyone, whether it's during the building, painting, and decorating process, or during operation when combining multiple modules into a decorated layout!
Set Contents:
Straight: 9 3/4" Concrete Tie + 2 7/16" Concrete Tie Feeder Track

Straight: Special T-Trak Double Track feeder cable

Corner: 12 3/8"-11" Concrete Tie Curve + 2 x 12 3/8"-11" Concrete Tie Easement Curves

2 x 10oz bags of Shaper Sheet Plaster

1 x 18" x 24" Woodland Shaper Sheet

1 x Bottle Foam Tack Glue

1 x Roll of 25 Sticky Dots

1 x Riser Assembly

2 x Masonite Support boards

4 x Leveling Bolts

12 x 2" Foam Nails

4 x Side Profile Boards

2 x Base Board Supports

Instruction Sheet



Description
Image
MSRP
Our $
Part #

SubTerrain Lightweight Layout System® T-TrakTM Straight Kit

Includes: SubTerrain Module Kit
UNITRACK Concrete Tie Double Track 248mm (9 3/4") Straight Track Section
UNITRACK Concrete Tie Double Track 62mm (2 7/16") Feeder Track
2 x Feeder Wires for T-Trak Specifications
Instruction Booklet


$49.00
Add to Cart for Price
KAT-28-885

SubTerrain Lightweight Layout System® T-TrakTM Corner Kit

Includes: SubTerrain Module Kit
UNITRACK Concrete Tie Double Track Superelevated Curve 315/282mm (12 3/8", 11") 45 degree Section
UNITRACK Concrete Tie Double Track Easement Tracks (Right and Left) 315/282mm (12 3/8", 11")
Instruction Booklet


$49.00
Add to Cart for Price
KAT-28-886