UNITRACK Automatic Signals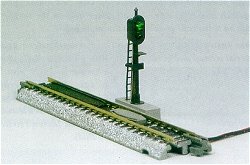 NOT FOR USE WITH DCC
Add to the appearance of your railroad with the Automatic 3-Color Signal. Signal is activated when train passes over sensor pad embedded between the rails. Note: Signal does not control train movement and colors change based on a built in, preset timer.

A separate Signal Power Supply is required and can operate up to three signals. For more than three signals, additional Signal Power Supplies may by purchased.

Sequence of Operation
Lead car (locomotive) passes over sensor, causing green light to change to red.
After 3 second delay, red light changes to yellow.
Yellow light returns to green after an additional 3 seconds.


| Description | Image | MSRP | Our $ | Part # |
| --- | --- | --- | --- | --- |
| 124mm (4 7/8") Automatic Signal | | $46.50 | $37.20 | KAT-20-605 |