| | |
| --- | --- |
| | N-Scale BethGon Coalporter |
Freight for your Modern Diesels!
Removable Loads and Molded Interior Bracing
Close Coupling Knuckle Coupler
Shock Absorber Construction with Low Flange Wheels




Prototype Information —
Since 1982, the BethGon Coalporter has been hauling "black diamonds" across the United States. The largest selling Coal Gondola in the world, the car's double tub design increases hauling capacity while reducing maintenance requirements. Tubs below the car lower the center of gravity, providing a smoother ride.
With thousands upon thousands of these cars in service, we are certain that the BethGon Coalporter will find a home on model railroads everywhere.
Model Features —
Please note that photos below are pre-production models for illustration purposes only.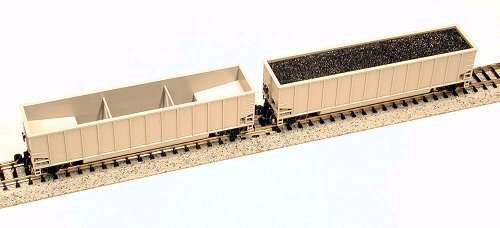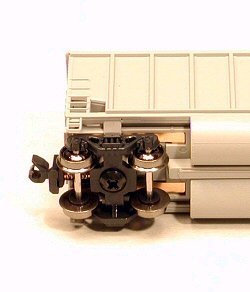 Coming to modelers in 8-car sets, Kato's new N-Scale BethGon Coalporter has many exciting features! All cars will be fully decorated with removable coal loads included at no extra cost. Interior bracing allows a new level of realism for those times when your SD70MAC or AC4400CW is pulling "empties." A new feature of these cars is a special shock absorber design to provide reliable operation.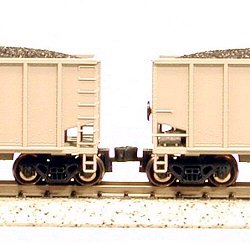 Take special note of the truck location on the cars - the prototype's wheels extend past the car end and we have replicated this appearance. Additionally, all cars will come with a "close coupling" knuckle coupler to maintain a more prototypical appearance between cars. Last, but not least, these cars will come with new low flange wheelsets.
Production Model Photos —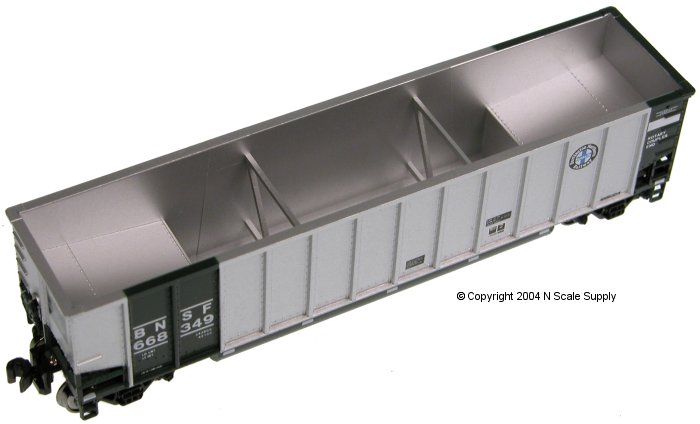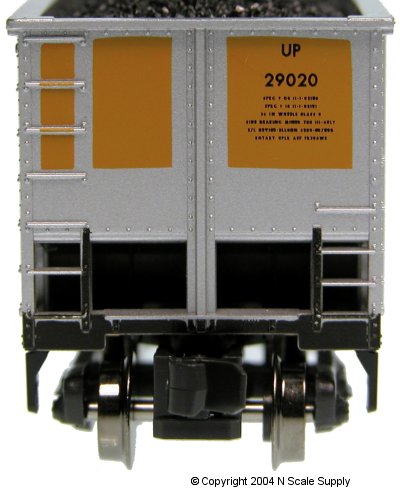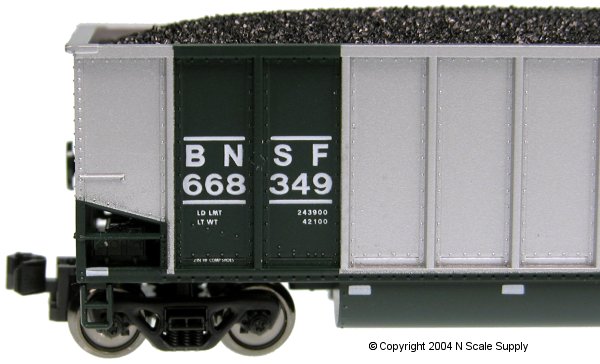 Protein Gondolas-

Protein Cars: These cars have a distinct "cap" which replicates the appearance of the roll-up tarp covering that protects the cars' contents from the elements.

8 CAR SETS
Road Name
Road #s
Image
MSRP
Our
Price
Part #
BNSF

8 Car Set

$120.00
KAT-106-4606
BNSF "Swoosh"

8 Car Set

$129.00
KAT-106-4616
Union Pacific

8 Car Set

$129.00
KAT-106-4617
Union Pacific "Building America"

8 Car Set

$129.00
KAT-106-4618
Norfolk Southern

8 Car Set

$130.00
KAT-106-4619
CSX

8 Car Set

$130.00
KAT-106-4620
BNSF

8 Car Set

$135.00
KAT-106-4621

8 Car Set

$135.00
KAT-106-4622
Norfolk Southern

8 Car Set

$145.00

KAT-106-4623
Union Pacific

8 Car Set

$145.00

KAT-106-4624
BNSF "Swoosh"

8 Car Set

$145.00

KAT-106-4625

Union Pacific

8 Car Set
28901, 28967, 29000, 29304, 29409, 29439, 29444, 29454

$150.00

KAT-106-4626

CSX

8 Car Set
379705, 379728, 379751, 379786, 379810, 379828, 379846, 379862

$150.00

KAT-106-4627

BNSF "Swoosh"

8 Car Set
670585, 670879, 671102, 671329, 671330, 671346, 671407, 671481

$150.00

KAT-106-4628

Canadian National

8 Car Set
193655, 193662, 193670, 193677, 193683, 193685, 193700, 193705

$150.00

KAT-106-4629

Norfolk Southern

8 Car Set
10481, 10502, 10622, 10570, 10585, 10449, 10499, 10476

$150.00

KAT-106-4630


Burlington Northern
Bethgon Protein Gondola

8 Car Set
534135, 534271, 534360, 534375, 534506, 534556, 534569, 534638

$155.00

KAT-106-4650

Burlington Northern
Bethgon Protein Gondola

8 Car Set
533999, 534017, 534123, 534329, 534565, 534568, 534596, 534700

$155.00

KAT-106-4651

SBTX
Bethgon Protein Gondola

8 Car Set
33006, 33020, 33031, 33049, 33051, 33177, 33203, 33234

$155.00

KAT-106-4652

SBTX
Bethgon Protein Gondola

8 Car Set
33001, 33026, 33050, 33145, 33178, 33230, 33236, 33239

$155.00

KAT-106-4653
Back to N Scale Supply catalog page for: Kato