| | |
| --- | --- |
| | N-Scale Atchison Topeka & Santa Fe "El Capitan" |
Atchison Topeka & Santa Fe "El Capitan"
&
EMD F7 Diesel Locomotives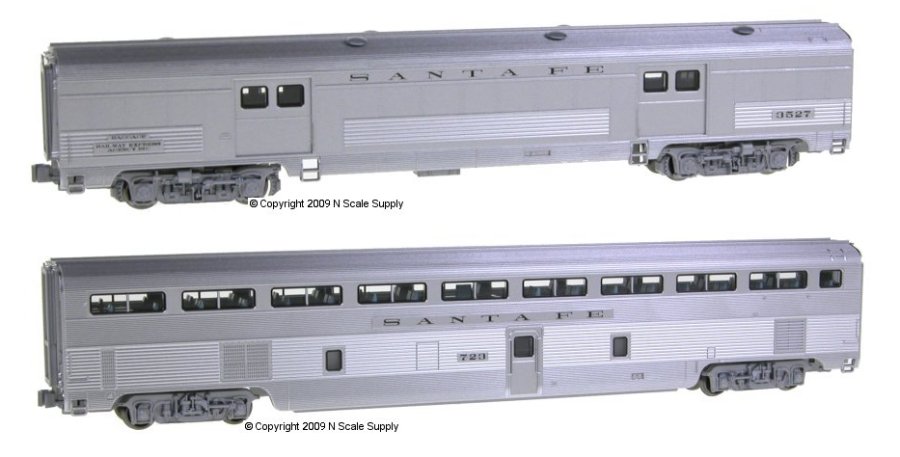 Prototype Information —
The Santa Fe "El Capitan" offered coach travel between Chicago and Los Angeles using hi-level coaches, a diner and lounge, its double decker high-level cars providing a greater passenger capacity than previous trains.
Information —
Re-live some great moments in history in miniature with Kato's "El Capitan" which was usually pulled by an F7A-B-B-A combination with our models time period during the last half of the 1950's. The "El Capitan" offered coach travel between Chicago and Los Angeles using hi-level coaches, a diner and lounge. It usually had 10 cars but during the summer it increased to 12 cars. We selected the most popular time period of 1956 – 1958 when this train was operated and promoted and advertised by the AT&SF RR as its premier all coach hi-level train between Chicago and Los Angeles with a transition car and step down cars and operating tail lights and a drumhead on the rear of one of the 68 seat coach cars. In January 1958, the "El Capitan" and "Super Chief" were consolidated but during the high traffic periods (Christmas and summer months), the "El Capitan" ran separate from the "Super chief". You also have the opportunity to operate this "El Capitan" along with the Kato "Super Chief" with all the correct cars. The train can also be operated with 5 locomotives as F7A-A-B-B-A.
Model Features —
Specific interior and exterior details
Each car will be equipped with low flange wheels, KATO magnetic knuckle couplers and shock absorber construction for smooth and reliable operation.
All detail parts installed.
Interior of cars can be lighted with optional installation of Interior Light Kit with White LED (Light Kit with White LED is DCC friendly)
Hi-Level coach with a continuous lighted drumhead sign and red marker lights and directional backup light.

Prototype Information —F7's
Following the very successful release of the California Zephyr in N scale, comes the "Super Chief." It will be available in individual F7A and F7B locomotive units and three different 4-car passenger car sets, so that you can enjoy operating this well-known Santa Fe train while incrementally adding locomotives and cars to eventually build your train into the complete 1953 weekend "Super Chief" consist.
Model Features —
DCC-friendly
Selectable A-unit road number -- although printed number board #40 is factory-installed, additional number boards #40C will be provided for personalized renumbering by hobbyist.
A-unit LED directional headlight and illuminated number boards
KATO magnetic knuckle couplers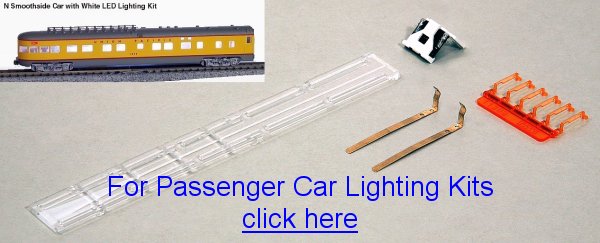 Atchison Topeka & Santa Fe "El Capitan"
Description

Car Type

Car #
Image
MSRP
OUR#
PART #

ATSF "El Capitan" Basic 10 Car Set

Baggage-Dormitory

3478

$280.00

KAT-106-077

Step Down Coach

537

Coach

724

Coach

710

Diner

654

Lounge

579

Coach

713

Coach

722

Step Down Coach

531

Baggage

3534

ATSF "El Capitan" Basic 10 Car Set

Baggage-Dormitory

3479

$280.00

KAT-106-084

Step Down Coach

536

Coach

718

Coach

705

Diner

650

Lounge

575

Coach

721

Coach

707

Step Down Coach

530

Baggage

3505

ATSF "El Capitan" Basic 10 Car Set
w/ Interior Lighting

Baggage-Dormitory

3479

$430.00

KAT-106-084-1


Step Down Coach

536

Coach

718

Coach

705

Diner

650

Lounge

575

Coach

721

Coach

707

Step Down Coach

530

Baggage

3505

ATSF "El Capitan" Basic 10 Car Set
post 1971 appearance

Baggage-Dormitory

9991

$285.00

KAT-106-079

Step Down Coach

9909

Coach

9928

Coach

9931

Diner

9985

Lounge

9972

Coach

9940

Coach

9964

Step Down Coach

9907

Baggage

1027
ATSF "El Capitan" Basic 2 Car Set

Storage-Mail

3530
$55.00
KAT-106-7117

Coach

703
ATSF "El Capitan" Basic 2 Car Set

Storage-Mail

3500
$55.00
KAT-106-7116

Coach

701
ATSF "El Capitan" Basic 2 Car Set

Storage-Mail

3527
$50.00
KAT-106-7115

Coach

723
Santa Fe PA-1 Locomotives
Description
Road #
MSRP
OUR#
PART #
Santa Fe F3 Locomotives
Description
Road #
MSRP
OUR#
PART #
Santa Fe F7 Locomotives
Description
Road #
MSRP
OUR#
PART #

Click here for Kato Starter train Sets