EMD F3 Diesels
Now DCC Ready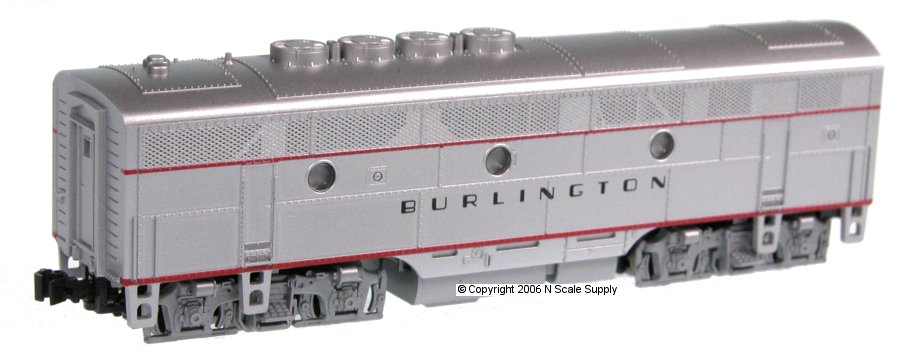 WESTERN PACIFIC
EMD F3 PHASE II WITH STEAM GENERATOR
The Western Pacific Railroad operated the westernmost leg of the California Zephyr's route. At the head-end of the CZ for the WP was an A-B-B consisting of EMD F3 diesel locomotives.

This new production delivers a single B-unit, as well as a supply of the A+B 2-unit sets, for hobbyists to recreate the accurate A-B-B lash-up used by the WP with the CZ.

All of the models will be powered with the traditional KATO five-pole motor with dual brass flywheels
The model mechanism will be DCC-friendly, for easy drop-in installation of a decoder by the hobbyist operating with DCC
The A-unit will be equipped with an amber LED headlight and have illuminated pre-printed number boards.
All models will be equipped with the KATO fully-automatic knuckle coupler.
The A+B set will carry road number 801A and 801B, respectively and the single B-unit will be numbered 801C, for faithful recreation of the prototype CZ-consist numbering
Prototype Information
The F-Unit is probably the most recognized diesel locomotive in North American history. It was found on railroads from East to West and North to South. Eastern railroads favored a "Single Headlight" version of the F3, while Western railroads favored a "Dual Headlight" version.
F3 locomotives were used in both freight and passenger service. For passenger service, it was necessary for the locomotives to have a Steam Generator to provide heat and electricity in the passenger cars. In later years, many F3 locomotives originally intended for passenger services were downgraded to freight duty.
---
Model Information
Kato USA is pleased to offer a new production of N-Scale F3 locomotives with a revised, DCC Friendly mechanism that will allow drop-in decoder installation.
This production features an all-new combination of details; it is the first time we will offer the F3 in a Dual Headlight version. Of course, each roadname will have appropriate Steam Generator detail according to each prototype railroad.

Models will feature our smooth Kato mechanism and fully automatic magnetic knuckle couplers. For the first time, the Kato F-Unit will include Lighted Number Boards!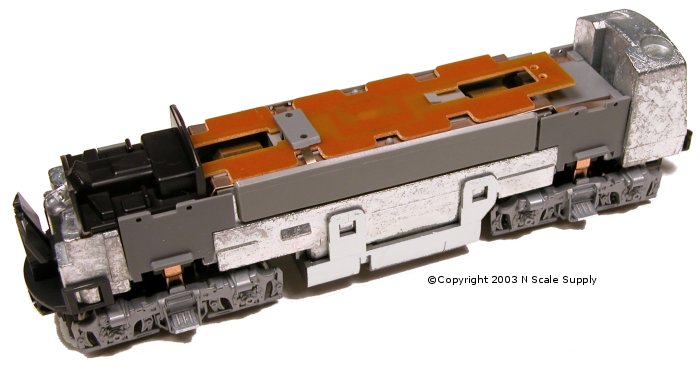 The engine chassis is a new design and is DCC ready
Roadname Information
Burlington Northern
The Burlington Northern was the result of a merger of several railroads including the Great Northern, Northern Pacific, and Spokane Portland & Seattle. Upon completion of the merger, BN found itself depending on a fleet of inherited F-Units. Originally numbered in the 9700 series for passenger service, the BN F3's that remained on the roster were soon renumbered in the low 700 series. In the BN numbering scheme, A-units wore even numbers and B-units wore odds. The road numbers we have selected are former GN and SP&S locomotives.
Denver & Rio Grande Western
Famous for its advertisements featuring the Royal Gorge, its lingering Narrow Gauge operations, and its beautiful locomotives that pulled the California Zephyr, the Rio Grande operated in the mountains and deserts of Colorado and Utah. Even today, a tourist railroad operates excursions through the famous Royal Gorge with locomotives painted in a D&RGW-inspired paint scheme.
Santa Fe
Delivered in 1946, Santa Fe's first F3 locomotives featured a silver-painted body with red "Warbonnet" over the cab. A-Units originally had three porthole windows and a single headlight. Santa Fe was quick to make changes; removed was the center porthole window and added was a second headlight — this is the version we have selected to produce. In later years, Santa Fe's F3 locomotives were rebuilt with new fans and side panels to duplicate the appearance of the newer F7 locomotives.
Union Pacific
The "Route of the Streamliners," started accepting delivery of Electro-Motive F3 locomotives in 1947. Intended for passenger service, an early delivery was numbered in the 900 series and entered in UP's locomotive classification scheme as FP-3 locomotives. In the early 1950s, the 900 series locomotives were renumbered into the 1451 number series. Displaced by more powerful E8 locomotives, several F-Units received freight pilots as they continued performing dual roles for Union Pacific. Many F3s were ultimately rebuilt to F9 specifications.
Western Pacific
As a partner railroad for the California Zephyr (WP, D&RGW, CB&Q), the Western Pacific supplied motive power for part of the train's journey. When the CZ was new, this power was often WP's F3 locomotives numbered 801 and 802. They were built specifically for CZ use, but were eventually utilized throughout the railroad. The attractive orange, silver, and stainless steel scheme made the "Feather River Route" hard to forget.
Chicago, Burlington & Quincy
An A-B-A consist of CB&Q F3 locomotives, in silver bodies with black nose stripes and lettering, was on the point of the California Zephyr when it pulled out of Chicago on its inaugural westbound run, March 21, 1949.
The CB&Q locomotives had a "passenger" or "closed" front pilot and lacked dynamic brakes because of the Burlington's relatively flat route.
The bodyshells feature correct "passenger" pilot detail and correctly lack the roof mounted dynamic brake fan.

F3 Single Units
Road Name
Road #
Image
MSRP
Our $
Part #
Santa Fe
??
$90.00

KAT-176-1121
Santa Fe B-Unit
None
$85.00

KAT-176-1122
Santa Fe B-Unit
None
$85.00

KAT-176-1111
Union Pacific
1404
$90.00

KAT-176-1112
Union Pacific
1405
$90.00

KAT-176-1113
Union Pacific
1412C
$85.00

KAT-176-1114
Southern Pacific "Black Widow"
6101
$90.00

KAT-176-1115
Southern Pacific "Black Widow"
6104
$90.00

KAT-176-1116
Southern Pacific "Black Widow"
none
$85.00

KAT-176-1117
Western Pacific
802A
$90.00
KAT-176-1202
Western Pacific
803
$90.00

KAT-176-1203
Western Pacific B Unit
None
$85.00

KAT-176-1208
Western Pacific with DCC
802A
$130.00

KAT-176-1202-DCC
Western Pacific with DCC
803
$130.00

KAT-176-1203-DCC
Western Pacific B Unit with DCC
None
$125.00
KAT-176-1208-DCC
Western Pacific
801A
$85.00

KAT-176-1204
Denver & Rio Grande Western
5531
$85.00

KAT-176-1303
Denver & Rio Grande Western
5541
$85.00
KAT-176-1304
Denver & Rio Grande Western
5544
$85.00

KAT-176-1305
Denver & Rio Grande Western B Unit
None
$85.00

KAT-176-1308
Chicago Burlington & Quincy
??
$85.00

KAT-176-1302
Chicago Burlington & Quincy
9962A
$85.00

KAT-176-1311
Chicago Burlington & Quincy
9962C
$85.00

KAT-176-1312
Chicago Burlington & Quincy B Unit
None
$85.00

KAT-176-1307
Chicago Burlington & Quincy
9960A
$90.00

KAT-176-1313
Chicago Burlington & Quincy
9960C
$90.00

KAT-176-1314
Chicago Burlington & Quincy
None
$85.00

KAT-176-1315
EMD F2/F3 Freight Scheme Locomotive 2-Packs
Road Name
Road #
Image
MSRP
Our $
Part #
Atlantic Coastline
EMD F2A & F2B
2 Headlights (A unit only), Non Dynamic Brake, Steam generator
329, 335B


$170.00

KAT-106-0201
CB&Q
EMD F2A & F2A
2 Headlights, Dynamic Brake, No Steam generator
151, 155


$175.00

KAT-106-0202
Rock Island
EMD F2A & F2A
2 Headlights, Non Dynamic Brake, Steam generator
39, 44


$175.00

KAT-106-0203
C&NW
EMD F3A & F3A
2 Headlights, Dynamic Brake, No Steam generator
4051, 4052


$175.00

KAT-106-0204