| | |
| --- | --- |
| | EMD E8/9 Locomotives |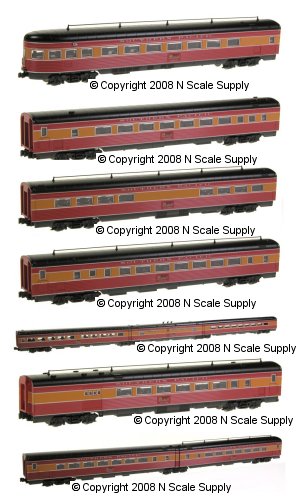 Click Here for Southern Pacific Passenger Cars
Prototype Information
Model Information

The first year of production of the E8/9 by EMD was 1949. More than 500 A-units and 80 B-units would eventually be built.
The E8/9 diesel locomotive shared the similar "bulldog nose" carbody style as the shorter, more popular F7 and was powered by two separate 12-cylinder prime movers capable of producing 2250/2400 hp.
The E8/9 also rode on A-1-A trucks (powered axle-idler axle-powered axle), resulting in an exceptionally smooth ride favored by crews.
The E8/9 was produced in both A-units and cabless B-units. The A-units were usually built to railroad specification of either single or dual headlight and freight or passenger pilot.
Like the F3 and F7 of the same time period, the E8/9 was utilized in both passenger and freight service.

All units are equipped KATO five-pole motor with dual brass flywheels.
All units are equipped with the remarkably prototypical-looking, semi-automatic KATO couplers.
All units feature white LED headlights!
DCC Ready engines easily accept the Digitrax DIG-DN163K0A.

Coupler Converion Info:
A-Unit (both front and rear): MTL-2000
B-Unit (both front and rear): MTL-1128
Road Name
Road #
Image
MSRP
Our $
Part #
Southern Pacific

6018
$95.00
KAT-176-5307
Southern Pacific

6046
$95.00
KAT-176-5308
Pennsylvania RR
5711
$95.00-$100.00
KAT-176-5311
Pennsylvania RR
5809
$95.00-$100.00
KAT-176-5312
Pennsylvania RR
5887
$110.00
KAT-176-5313
5898
$110.00
KAT-176-5314
Pennsylvania RR with DCC
5887
$190.00
KAT-176-5313-DCC
5898
$190.00
KAT-176-5314-DCC
Pennsylvania RR with LokSound
5887
$310.00
KAT-176-5313-LS
5898
$310.00
KAT-176-5314-LS
Amtrak
419
$95.00
KAT-176-5341
Penn Central
4285
$95.00
KAT-176-5343
Alaska Railroad
E8A
Dual Headlight, Dynamic Brakes, Chin Pilot, Steam Generator
2401
$95.00
KAT-176-5320
Alaska Railroad
E8A
Dual Headlight, Dynamic Brakes, Chin Pilot, Steam Generator
2402
$95.00
KAT-176-5321
Alaska Railroad
E8B
Dynamic Brakes, Steam Generator
P-30
$95.00
KAT-176-5322
Chicago & North Western
E8A
Dual Headlight, Non-Dynamic Brakes, Chin Pilot, Steam Generator
5021A
$95.00
KAT-176-5360
Chicago & North Western
E8A
Dual Headlight, Non-Dynamic Brakes, Chin Pilot, Steam Generator
5021B
$95.00-$100.00
KAT-176-5361
Via Rail
E8A
Single Headlight, Non-Dynamic Brakes, Straight Pilot, Steam Generator
1800
$95.00-$100.00
KAT-176-5344
Via Rail
E8A
Single Headlight, Non-Dynamic Brakes, Straight Pilot, Steam Generator
1802
$95.00-$100.00
KAT-176-5345
Illinois Central
E8A
Dual Headlight, Non-Dynamic Brakes, Chin Pilot, Steam Generator
4018
$95.00
KAT-176-5362
Illinois Central
E8A
Dual Headlight, Non-Dynamic Brakes, Chin Pilot, Steam Generator
4025
$95.00
KAT-176-5363
Illinois Central
E8B
Dynamic Brakes, Steam Generator
4105
$90.00
KAT-176-5364